Glamor Versace Sandal with gold color and elegance design. Versace matte gold strap sandal with stiletto and bow details at front. Leather sole and buckle fastening ankle strap, finished with diamante and branded metal plate at toe strap.
Luxury white of Versace Sandal with diamond combination. Keep an elegant and luxurious facade all day with Versace Studded Platform Sandals. Looking at it already tells that this is indeed a fine pair that could keep you on the edge even if you are on your simplest getup. It is ironically inexpensive at $746 since this looks like it is definitely worth more than that. But anyway, that's a good thing though especially for today's global financial crisis. The combination of the white smooth grained leather and the gold tone studs obviously has to do with its overall luxurious appeal. It looks very polished that it would surely reflect on your overall facade. It comes with an open toe and a band across the vamp, adorned with round golden studs that are patterned to keep it more polished. It also has crisscross bands over the foot, which encircles the ankle and fastens through the gold tone buckle. It also holds golden studs at the back to give it an added luxe even at every angle. The patent leather-covered stiletto heel measures about five inches high, while the platform is about 1-inch, enough to give you added height and edge. Pairing this Versace Studded Platform Sandals with your smart casuals would surely pull together a stunning and classy working ensemble. But if you want to create an instant day to night transition, then a simple yet statement-making dress would surely do the job.
Elegant Versace Sandal with white color. Isn't white so pure and pleasing to the eye? Looking at this pair of sandals tells me that it is a very ideal shoe to wear on any occasion. But I guess it is just so ideal, they have not thought that a white sandal is so easy to get stained. Anyway, this white Woven Platform Sandal is actually from Versace. This is just so fabulous, especially with its woven grained leather and the knot detail actually tells me that it is more of a floral design. It is an open toe sandal with sling back strap and polished gold metal buckle fastening. The 1 inch platform holds a golden nameplate, while its stacked heel measures about 5.5 inches high. Good thing there is a padded insole and a rubber heel pad for some comfort feel. So if you think white is perfect for your feet, and that you are sure to keep this pure white sandal away from mud or any stain.
Unique Versace Sandal design
Elegant Versace Sandal with cute design. These Versace strappy sky-high platform sandals with metallic, metal, and spike detail from the Spring 2010 Ready-to-Wear Collection by Versace are one of favorites from this line.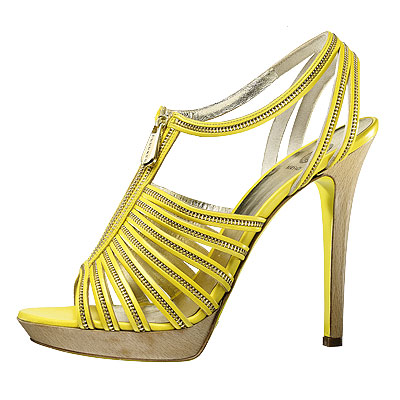 Luxury yellow of Versace Sandal
Beautiful Versace braided Sandal
Sweet Versace Sandal with blue color
Beautiful Versace Sandal with red color.
Coral leather sandal from Versace featuring a strap along the foot with gold D-ring detail, ankle strap with buckle fastening, and gold platform sole with covered stiletto heel.
Leather black of Versace Sandal
Funny Versace Sandal for summer with diamond combination
Cute Versace Sandal with unique design